Dopamine
Dopamine is the primary neurotransmitter that activates the brain's Limbic "reward" system. When dopamine levels rise, neurons in the reward system are excited, causing the feeling of pleasure. But dopamine is about more than just gratification. It's also central to learning from it. Dopamine highlights what caused pleasurable experiences in order to remember how to repeat them, to learn from positive experience.
Addictive drugs cause large surges of dopamine in the Limbic system. So drug use not only causes a high, it also has significant impacts on learning, memory and motivation.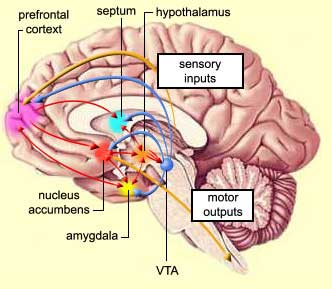 For more on dopmaine, click on:
Click here for information about Other (non-dopamine) Neurotransmitters and Addiction.